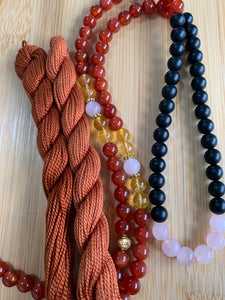 StormMalas
Let Your Mala Choose You 🌩 Genuine Gemstone Mala with Spice Tassel - Lori
Regular price
$59.00
$0.00
This special meditation necklace is being crafted for Lori from:
108 [8mm] Genuine Gemstones, a Carnelian 'Guru', handmade cotton tassel and teeny buddha accent.

This necklace measures about 35" long excluding the 3" tassel.
~
Carnelian.  This incredible stone is said to enhance the life of the wearer by attracting joy and happiness.  Egyptians placed it with their mummies to help on the journey to the afterlife.  This is a positive stone that drives ambition and power, whilst also bringing protection and good luck.
Black Agate.  All agates are calming but black agates specifically are for resilience, self control, quiet power.  They remove negative energy allowing you to bring more joy and peaceful energy into your life.
Citrine.  An intention of happiness and positivity to guide you out of the darkness and into the light.
Rose Quartz. The stone of love.  It's for opening the heart to self love, for deeper connections, and emotional healing.  It comes with a reminder to nurture yourself
 ~
Necklaces are 'cleansed' with a smudging of sage and pine before shipping.
FREE DOMESTIC SHIPPING
Handmade in the USA 
---
More from this collection