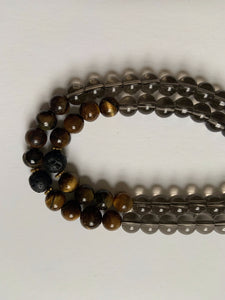 StormMalas
108 Mala for Kindra ~ Genuine Smoky Quartz & Tigers Eye - Black Tassel
Regular price
$57.00
$0.00
This meditation necklace is being made in a 108 strand version for Kindra from:
108 [8mm] Smoky Quartz, Tigers Eye and Lava Stone beads, gold vermeil accents,  and a handmade black cotton tassel.
Will measure about 33" long excluding the 3" tassel.
Photos to be updated after it's crafted!
~
Smoky Quartz:  A grounding stone for connecting with the earth and nature, and soothing physical and emotional pain.  Smoky Quartz is the national gem of Scotland, considered a sacred stone dating back to the Druids.
Tigers Eye:  This talisman for protection and courage fortifies your will so that you can face challenges with courage and accomplish your goals. 
Volcanic Rock:  Born from the fiery core of earth, this stone full of raw energy is for power, connecting with the earth, and protection.
~
Necklaces are 'cleansed' with a smudging of sage and pine before shipping.
FREE DOMESTIC SHIPPING
Handmade in the USA in a mammal-free cottage   ;P
---
More from this collection