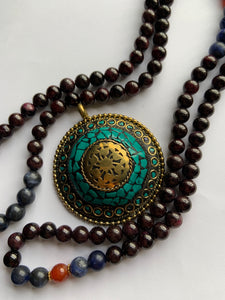 StormMalas
Garnet & Sodalite ~ Intuition
Regular price
$75.00
$0.00
This special meditation necklace is being crafted for Kim from:
108 genuine dark garnet and sodalite beads, and carnelian & gold vermeil spacer beads.  It's finished with a gorgeous brass and turquoise mosaic pendant from Tibet.  
The pendant measures 57mm in diameter (about 2 1/4" across).  
~
Garnet:  Used by many civilizations for thousands of years, this stone is a protective powerful amulet. Wear to attract health and success ... and according to folklore, prevent nightmares ;)
Sodalite:  Intuition enhancing stone that also brings out your creativity and inspires.  During the Renaissance, artists considered this particular shade of blue a sacred color~ "sacre bleu" 
Carnelian:  This incredible stone is said to enhance the life of the wearer.  Egyptians placed it with their mummies to help on the journey to the afterlife.  This is a positive stone that drives ambition and power, whilst also bringing protection and good luck. 
~
All Malas are 'cleansed' with a smudging of sage and pine before shipping.
FREE DOMESTIC SHIPPING
Handmade in the USA in a mammal-free cottage   ;P
---
More from this collection